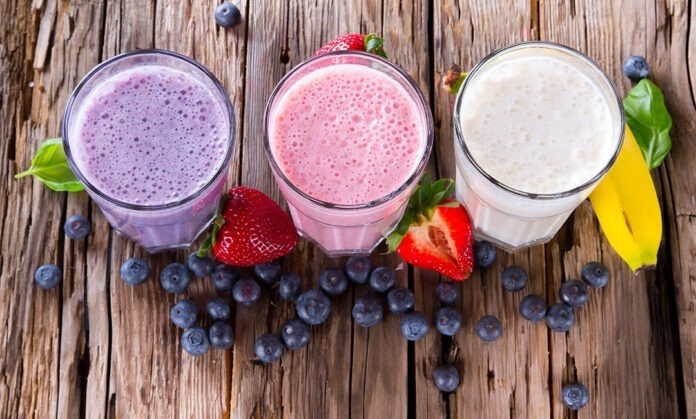 Smoothies can be a total game-changer, especially when you don't have the time or energy to meal prep! If you're aiming to slim down or stay fuller longer without experiencing those late-afternoon hunger pangs, you're in the right place. Keep scrolling to learn critical ingredients to incorporate into your weight-loss smoothies and smoothie bowls, tricky add-ons to avoid and our favorite recipes from Instagram!
The Best Ingredients for Weight-Loss Smoothies
Before you go tossing in your favorite flavors, let's do a quick rundown of the best ingredients to consider if you're trying to make every calorie count:
Healthy Fats: Nut butters rich in protein, nutrients and fiber are your best bet — almond, cashew and peanut butter top the list. Just keep an eye on the sugar content! Other healthy fats include avocado and MCT oil. Healthy fats are a must because they slow digestion, so you'll stay fuller longer.
Fiber: As mentioned above, fiber-rich foods are also a smart choice. Ingredients like chia seeds, flaxseeds, leafy greens and oats help prevent blood sugar spikes, so your body won't be tricked into storing carbs as fat.
Protein Powders: Not all protein powders are created equal, so check the label to ensure it aligns with your health goal. Check with your doctor or dietitian to find out how much protein you need, and opt for a powder with natural ingredients.
Weight-Loss Smoothie Ingredients to Avoid
As you're getting your ingredients together, be aware that there are tons of smoothie recipes that contain sneaky sugar culprits, like sweeteners, honey and orange juice. You'll also want to be wary of recipes that call for whole milk, heavy cream and yogurt. Nothing against these recipes — they're delicious — but if you're aiming for something healthy and protein-rich, these may be counterproductive to your goal!
1. Strawberry Banana Smoothie
Packed with healthy fats, fiber and fruit, we'll be making this smoothie all year round.
View this post on Instagram
2. Blueberry Avocado Smoothie
Protein, fiber, antioxidants — this smoothie checks all of the boxes! Head to Eat With Clarity for the full recipe.
View this post on Instagram
3. Daily Protein Smoothie
Searching for a weight-loss smoothie that you can enjoy every day? Peep the ingredient list on this post!
View this post on Instagram
4. Wake Me Up Protein Smoothie
With rolled oats, chocolate protein powder and coffee(!), this is one smoothie we're happy to make every morning.
View this post on Instagram
5. Banana Blueberry Smoothie
You don't need a ton of ingredients to make this simple-yet-tasty smoothie! Pro tip: add in your favorite protein powder for even more benefits.
View this post on Instagram
6. Signature Green Smoothie
This smoothie is bursting with natural sweetness, thanks to the coconut water and banana! Check out the full recipe in the caption.
View this post on Instagram
7. Probiotic Blueberry Smoothie
We know, there are so many protein-rich blueberry smoothies out there. However, this one contains sneaky veggies like zucchini and cauliflower, along with a probiotic protein powder!
View this post on Instagram
8. Matcha Collagen Cloud Smoothie
Swap out your iced matcha latte and opt for something with collagen, protein and plenty of other benefits. Your skin will thank you!
View this post on Instagram
As always, check with your doctor or registered dietician before starting a weight loss plan. And while you're here, check out the best stress-fighting foods to incorporate into your diet!
The post Our Favorite Weight-Loss Smoothies to Try Now appeared first on FitMinutes.