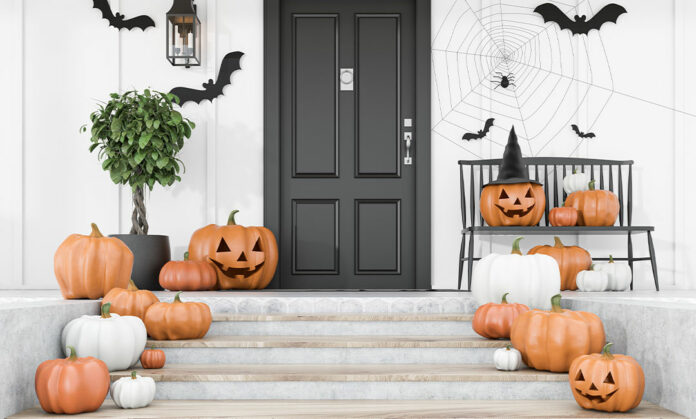 It's that time of year when pumpkins, cobwebs, and eerie spirits take center stage in our homes. If you're anything like us, you relish the opportunity to transform your living space into a bewitching wonderland. That's why we're thrilled to bring you a curated collection of spine-tingling Halloween decor inspiration, straight from the hauntingly creative corners of Instagram. From haunted house-themed porches to elegantly gothic table settings, Instagram has become a treasure trove of ingenious Halloween decorating ideas. Whether you're planning an elaborate Halloween party, aiming to create a hair-raising atmosphere, or simply want to infuse a dash of eerie charm into your home, these Instagram finds are sure to send shivers down your spine – in the most delightful way, of course!
Looking for some ways to incorporate spooky season into your living room? Check out @spooky.ghoull for some major seasonal inspo!
 

View this post on Instagram

 
Invite all the ghouls and goblins into your home with a stylish and spooky front porch. We're loving this seasonal and simple layout from @blackdog.creations.
 

View this post on Instagram

 
We love @corbelcottage and @cottonandcrete's budget-friendly spooky stair decorations! This combo of new and vintage Halloween décor is such a cool idea.
 

View this post on Instagram

 
If you're in need of seasonal and minimalistic Halloween décor, check out @12timbers. Affordable and trendy? Count us in!
 

View this post on Instagram

 
If you're a tride-and-true Halloween lover, may we suggest pulling some inspo from @jcdesignsanddecor? Her setup is to die for!
 

View this post on Instagram

 
Want to stick to neutrals this Halloween season? We totally got you. Check out @rusticwildarrow for some seriously chic Halloween décor inspo. We love the cute and ghoulish ghosts, and the added foliage is perfect to keep up, even once Halloween has passed.
 

View this post on Instagram

 
Give your coffee station a Halloween-inspired makeover thanks to @thetargetexplorer! How cute is this light up ghost? Perfect for small spaces, these set up is great for those looking to add just a bit of Halloween to their home.
 

View this post on Instagram

 
Get into some DIY action this Halloween with inspo coming from @maddisoneblack. These cute Halloween buckets are easily transformed into trendy flower holders thanks to some spray paint and a quick trip to the Dollartree!
 

View this post on Instagram

 
Looking for some more autumn-inspired DIY projects you can tackle this season? Check out some of our favs from Pinterest!
The post Spooky Halloween Décor Inspo from Instagram appeared first on InStyleRooms.