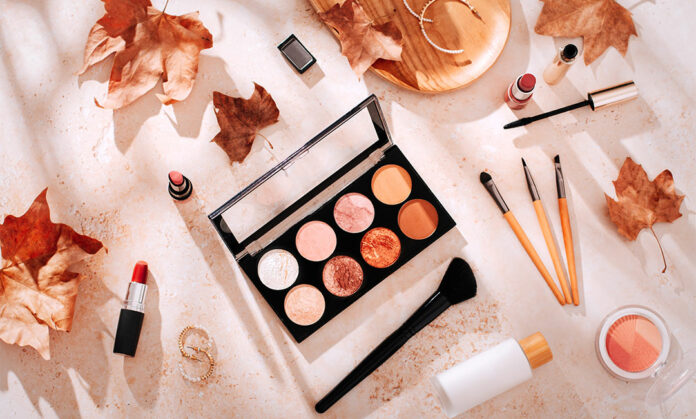 As the leaves start to change colors and the air becomes crisper, it's a great time to refresh our beauty routines and embrace the latest fall beauty trends. Whether you opt for warm and earthy makeup looks, embrace the glossy eyelid trend, or dive into the world of copper and auburn hair, this season offers a variety of exciting trends that are sure to inspire your inner beauty guru. So, go ahead, indulge in some cozy beauty updates, and let the autumnal vibes inspire your look this fall.
1. Warm & Earthy Tones
Fall is all about embracing the warm and earthy color palette, and this trend extends to makeup as well. Rich, terracotta eyeshadows, deep burgundy lipsticks, and warm-toned blushes are taking center stage this season. These hues not only complement the changing foliage but also add a touch of warmth and depth to your overall look.
2. Glossy Lids
Glossy eyelids are making a comeback this fall. Swap out your matte eyeshadows for high-shine glosses in shades like bronze, copper, and taupe. This trend not only adds a touch of glamour to your eyes but also creates a mesmerizing, wet-look effect that's perfect for those cozy autumn evenings.
3. Dark Lips
Dark and moody lip colors are a fall classic. This year, embrace shades like deep plum, rich chocolate brown, and sultry wine red. These dramatic hues are perfect for making a bold statement and adding a touch of mystery to your look.
4. Berry-Infused Skincare
Fall is the ideal time to nourish your skin, and berry-infused skincare products are here to help. Look for serums, moisturizers, and masks that contain antioxidant-rich ingredients like blueberries, raspberries, and blackberries. These ingredients can help protect your skin from environmental damage and keep it looking fresh and radiant throughout the season.
5. Copper & Auburn Hair
When it comes to hair color trends, copper and auburn shades are stealing the spotlight this fall. Whether you're looking for a subtle change or a bold transformation, these warm, fiery tones are a perfect choice. They beautifully complement the autumn landscape and can make your hair shine like a copper penny.
6. Graphic Eyeliner
Add a touch of artistic flair to your eye makeup with graphic eyeliner. Experiment with bold shapes, intricate lines, and unexpected colors to create eye-catching looks. Graphic eyeliner allows you to express your creativity and elevate your makeup game to the next level.
7. Feathered Brows
Say goodbye to overly sculpted brows and embrace the natural, feathered look. This trend involves brushing your brows upward and filling them in with soft, feathery strokes. It creates a more relaxed and youthful appearance, perfect for the easygoing vibes of fall.
8. Matte Skin with a Healthy Glow
Achieve a matte complexion with a hint of radiance by using matte foundation and strategically placed highlighter. This balance between matte and dewy creates a sophisticated and polished look, allowing you to shine without appearing overly oily.
9. Velvet Nails
Velvet nails are making a luxe appearance this fall. These textured nails mimic the feel of velvet fabric and come in various rich, fall-inspired colors. The tactile nature of these nails adds an interesting dimension to your manicure and is sure to catch the eye.
10. Pumpkin Spice Everything
Last but not least, fall wouldn't be complete without a nod to the beloved pumpkin spice trend. Pumpkin-infused skincare products, from masks to body lotions, are popping up everywhere. These products not only smell amazing but also provide nourishing benefits for your skin, making them a must-try this season.
Now that you have your beauty routine for the season finalized, why not make sure your wardrobe is up-to-date? Check out these affordable fall finds for a trendy season. 
The post Fall Beauty Trends We Can't Get Enough Of appeared first on Cartageous.