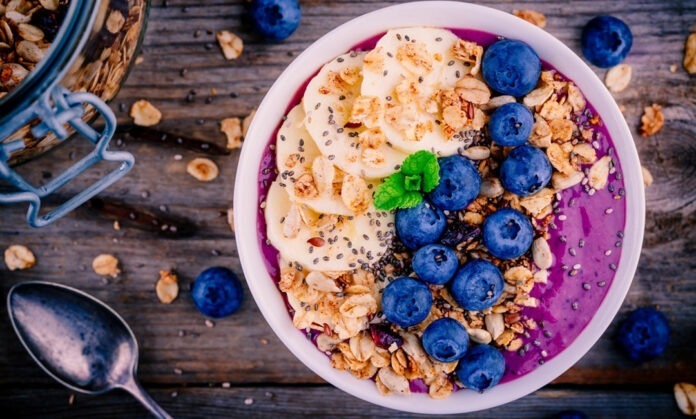 Searching for the perfect breakfast (or dessert) for a hot summer day? Hint: it's smoothie bowls! Refreshing, healthy and super simple to throw together, these delicious smoothie bowl recipes will definitely inspire you to create some protein and fruit-packed concoctions. Keep scrolling for our fave Pinterest-pulled recipes of the moment — and go ahead and give us a follow while you're at it!
1. Creamy Dragon Fruit Smoothie Bowl
Pressed for time? This vibrant dragon fruit smoothie bowl recipe is for you! It's ready in just five minutes with five ingredients. Check out the full recipe over at Minimalist Baker!
2. Mango Smoothie Bowl
Enjoy a tropical summer in a bowl with this mango smoothie recipe! You can use any fruits you like, but frozen pineapples and bananas are highly encouraged! Head to Bake With Shivesh for the full recipe!
3. Pink Raspberry Oat Smoothie
Stop those hunger pangs before lunch with this oat, raspberry and mango smoothie. This recipe via Two Spoons is almost too pretty to eat!
4. Peaches & Cream Smoothie Bowl
Can't get enough peaches this season? We feel you. This mouth-watering recipe by Katie Jacques (shared via Coconut Bowls) will be at the top of our go-to recipe list until fall arrives.
5. Blueberry Banana Smoothie Bowl
Quick, creamy and nutritious, this easy recipe via Baking Ginger is allllll about those antioxidants with blueberry flavor.
6. Tropical Green Smoothie Bowl
Currently craving all things tropical? This mango, banana and pineapple recipe from My Darling Vegan is topped with coconut and chia seeds for a refreshing bowl that's chock-full of superfoods.
7. Protein PB&J Smoothie Bowl
Enjoy the classic combination of creamy peanut butter and sweet jelly with this protein-packed bowl from Skinny Taste!
8. Orange Sunrise Smoothie Bowl
Rise and shine (or treat yourself to a snack) with a smoothie bowl packed with peaches, oranges, mango and carrots. Whether you're enjoying it for breakfast or a snack, this recipe via The Baking Fairy is one you'll want to make again and again.
9. Peanut Butter Banana Smoothie Bowl
Creamy and nutty with a soft-serve texture, this healthy recipe from Purely Kaylie is the perfect way to keep you happily full in between meals.
10. Ocean Smoothie Bowl
We couldn't round up our favorite delicious smoothie bowl recipes and *not* include this gorgeous blue-hued beauty! The secret to this color? Blue spirulina! Check out the full recipe from The Hint of Rosemary!
Ready for more summer-ready recipes? Check out the five cocktail recipes we're adding to our happy hour lineup this season!
The post 10 Delicious Smoothie Bowl Recipes to Make ASAP appeared first on FitMinutes.