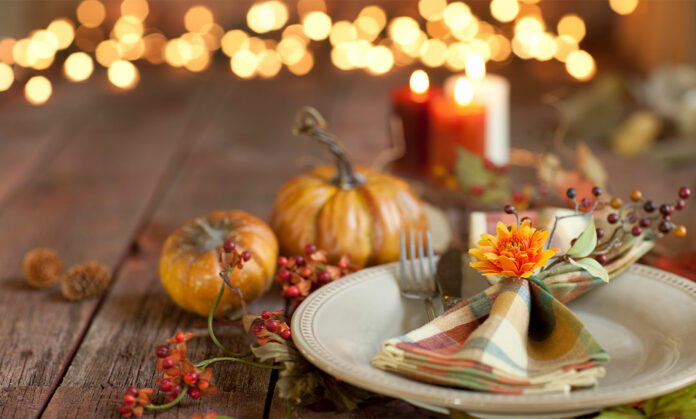 As autumn leaves paint a vibrant, picturesque landscape outdoors, it's time to bring that warmth inside and create an inviting ambiance for Thanksgiving. To help set the mood, join us as we delve into the art of crafting elegant Thanksgiving tablescapes that go beyond the traditional cornucopia. From timeless classics to modern twists, get inspired with these creative ideas from Pinterest, that include curated décor, fine linens, and thoughtful details to really step up your hosting game this holiday season.
1. 17 Thanksgiving Table Setting Ideas via The Anastasia Co.
Not sure where to start when it comes to building the perfect tablescape? The Anatasia Co. walks you through the basic pieces that every good host should include – along with some stunning inspo pics!
2. 5 Insider Tips to Easily Style a Perfect Fall Tablescape via Caitlin De Lay
Caitlin De Lay provides a essential fall tablescape checklist to help make sure you have all your bases covered. From color palette ideas to seasonal elements and textures, if you follow her how-to guide, we promise you won't be disappointed with the outcome.
3. 9 Stunning Thanksgiving Centerpieces via MommyThrives
MommyThrives provides an excellent range of Thanksgiving centerpiece ideas that will surely be a hit during the holiday season. These easy-to-set-up centerpieces will be the envy of all your friends and family.
4. How to Set a Thanksgiving Table in Warm Fall Colors via Sanctuary Home Décor
If you're in search of some ideas that are a bit more intricate, check out Sanctuary Home Décor for some serious inspo. Whether it be place setting ideas, or centerpiece must-haves, this article covers it all.
5. 25 Most Trending Thanksgiving Table Setting Ideas via Munchins Planet
If you're trying to be a bit more budget-conscious this year but still want to wow with your Thanksgiving décor, check out these trending Thanksgiving Table Setting Ideas from Munchins Planet. Easy to recreate, and not too hard on the wallet!
6. Neutral Thanksgiving Table via Amy Dazzo
Allergic to color? No worries, we've got you covered. Neutrals are still super popular amongst décor-enthusiasts. Thanks to Amy Dazzo, you'll be able to explore the realm of neutral Thanksgiving décor that is sure to elevate any dinner party you have this season.
7. 10 Creative Thanksgiving Tablescapes via Domestically Creative
Think outside the box with these 10 Creative Thanksgiving Tablescape ideas, thanks to Domestically Creative. From traditional colors and fall-themed décor to more modern and chic options, these ideas are sure to get the creative juices flowing.
8. Fall Table Décor & Centerpiece Ideas You Can Steal for Your Fall Celebrations via Home Made Lovely
Still living for the classic farmhouse-chic vibe? We don't blame you! Home Made Lovely leans into the farmhouse look through layering and neutral color schemes to create the ultimate tablescape your guests will love.
Looking to add that viral cottagecore vibe to your home this season? Check out these must-haves to help you achieve the look and feel. 
The post Elegant Thanksgiving Tablescapes: Setting the Perfect Holiday Mood appeared first on InStyleRooms.