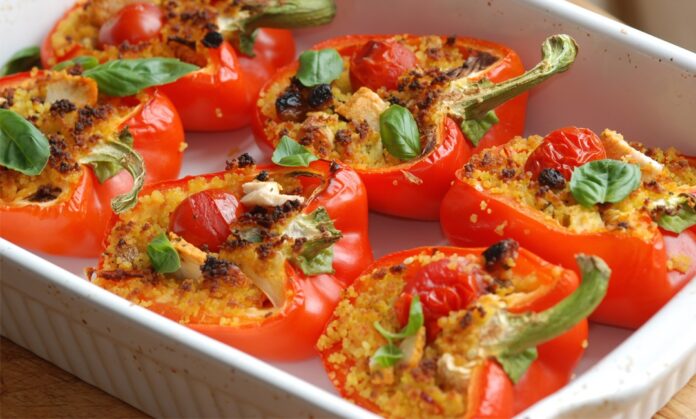 After spending the day working, taking care of kiddos and fur babies and fitting in a workout (go you!), it can be hard to also make time for cooking a healthy meal. We've sifted through our favorite recipes on Pinterest to bring you some delicious and easy low calorie dinners you can whip up in just a few minutes. From plant-based stuffed peppers to California sushi bowls, read on for the (yummy) goods!
1. Greek Meatballs with Tzatziki Sauce
Feta cheese, garlicky creamy tzatziki and fresh veggies come together in one gloriously delicious and healthy meal.
2. Easy Plant-Based Stuffed Peppers
Searching for something to make on Meatless Monday? Look no further than this under 400-calorie plant-based recipe.
3. Grilled Chicken Caprese Salad
You'll be everyone's hero at your next spring picnic if you bring this delicious and filling salad.
4. Instant Pot Pumpkin Chicken Curry
Serve this scrumptious dish with a side of Coconut Cauliflower Rice.
5. One Pan Honey Lemon Garlic Shrimp and Asparagus
This 321-calorie meal comes together in just 20 minutes!
6. Chicken Fajitas
Serve this delicious sheet pan of fajitas with a side of Grilled Pineapple Black Bean Salsa.
7. Sheet Pan Brussels, Potatoes and Brussels Sprouts
This low calorie dinner is gluten-free and both Paleo and Whole30-friendly!
8. Healthy Avocado Chicken Wraps
Looking for a vegetarian version of this tasty meal? Skip the chicken and add Crispy Air Fryer Chickpeas instead!
9. California Sushi Roll Bowls
When you're craving sushi, this 312-calorie dish will do the trick!
1o. Chicken and Vegetables Skillet
Dried thyme, rosemary and chili powder add a kick to this healthy dinner.
Hungry for more?

Follow us on Pinterest for more recipes!
The post Easy Low Calorie Dinners appeared first on Cartageous.