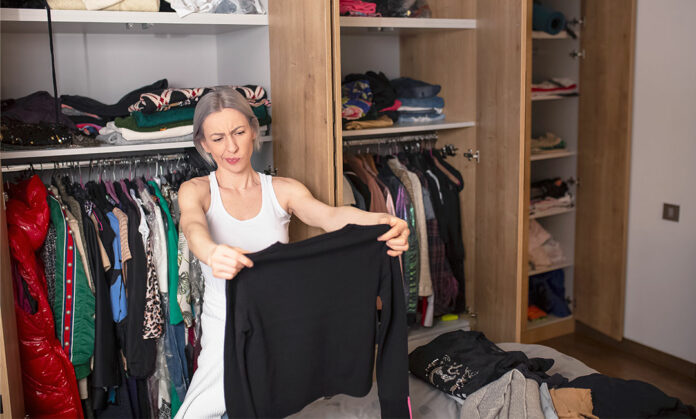 While we all dream of those huge celebrity-worthy closets we see on Instagram, most of us have slightly smaller closets than we like. Fortunately, there are many ways to prevent our wardrobes from descending into chaos. So whether your 2023 resolutions involve getting organized or your closet needs an overhaul, make the most of your space with these closet organization tips!
1. Clear out the excess
There are many methods to closet organization, and most begin with completely clearing out the space and starting over. Sort items into categories and go through everything to see what needs to be kept, mended or donated/resold. This is also a great opportunity to see if you need to incorporate storage boxes, racks, special hangers or any other organizational essentials you may need.
While figuring out what to toss and keep, consider how you'd like to store your clothing. You could color-code your wardrobe, organize by season, etc. The key is figuring out a system that works for you — otherwise, you won't be able to keep it that way!
2. Reconfigure your closet
Not all of us have the resources for that dreamy Carrie Bradshaw closet, so get creative and make the most of what you have! Take note of your closet's features — a higher ceiling, multiple hanging rods or built-in shelving — and make it work for you. For example, if you have a shelf above your hanging rod, you may want to store your summer clothes in a clear bin to use the space.
3. Maximize your storage with hanger hacks
Use every hanger to your advantage! From holding and hanging hacks to adding accessories for extra storage, the possibilities are endless. If you need more shelving space, you can buy hanging organizers to better utilize the space.
4. Use bins and drawers
If you have a smaller closet, you must make the most of every inch! Shop around for drawers to hold all of the odds and ends that won't fit in your dresser. Just be sure to take inventory to shop for the best storage options. Generally, clear stackable bins are best because they maximize vertical space and you can see what's inside, instead of opening them one by one.
5. Use other closets/storage
Your bedroom closet isn't your only option for your stuff. If you have another closet in your space — in the hallway or office — it could be repurposed for your off-season stuff! Go through your home and list all available space and shelving: underneath the bed and sofa, half-full hallway closets and more. You'd be surprised how many spots in your space could be repurposed for storage!
6. Seasonally rotate your stuff
This tip may seem obvious, but it can free up a ton of space! Once spring arrives, take all of your fall/winter pieces and store them elsewhere. You can also use the seasonal hanger method tool to decide better whether or not to retire a piece that doesn't get a lot of attention. If you haven't worn it all year, it may be best to donate or resell it.
7. Make a schedule
No matter what closet organization tips and methods you follow, consistency is key. Make a schedule of when to tidy up your storage space and stick to it! Once you've formed the habit, you can enjoy a cleaner, more organized closet all year round.
Now that you've organized your closet, it's time to focus on the rest of your home! Check out our 8 tips for creating a calmer space!
The post Closet Organization Tips to Try ASAP appeared first on InStyleRooms.