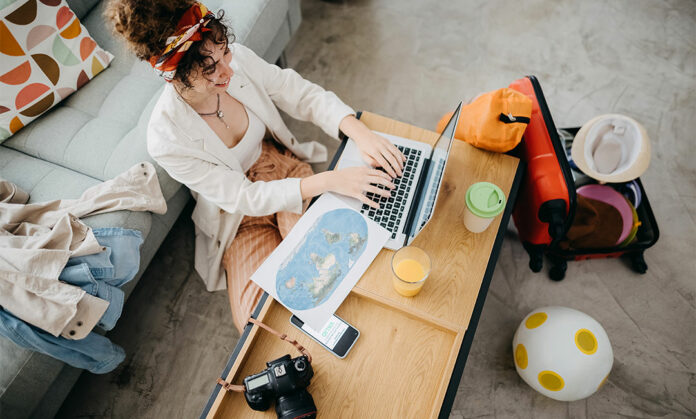 Going on vacation doesn't have to mean spending a ton of money. If you've been itching to explore but don't want to build a big budget, you're in luck. From scheduling your travel to planning your meals, these budget-friendly travel tips can save you money without sacrificing a good time. So get your travel accessories ready, set your away message and keep reading to learn how to maximize your trip without draining your bank account!
1. Travel in the off-season.
If you're planning your travel over the holidays, weekends and certain seasons, you may end up paying more for your trip. Instead, book your travel during the off-season! Each destination's off-season will vary, so just be sure to do a bit of research to check the weather and other seasonal factors that may impact your vacation. (Also, traveling in the off-season also means fewer crowds — another bonus!)
2. Sign up for flight notifications.
Flight costs can vary widely, especially depending on the time of year and day of the week. Sign up for flight notifications with your preferred carrier and do your best to remain flexible with your travel plans. Websites like Scott's Cheap Flights and Momondo can also offer opportunities to save on your ticket.
Another budget-friendly travel tip to always keep in mind: delete your cookies before you search! Airlines and booking flights will increase fares if they know you're searching for flights.
3. Avoid renting a car.
Unless you're traveling to a remote location or a small town, look into your destination's public transportation system. If your destination also has a lot of activities nearby and you prefer not to stick to a schedule, it may be more cost-effective to use a ride-sharing app.
If you have to rent a car, be sure and do your research! AutoSlash helps find the best rental rates that you don't have to prepay. And even after you book, this free service continues to help you find the best price.
4. Do as locals do.
Check your destination's event calendar and chat with the locals whenever possible. They will have the best recommendations and tips on making the most of your trip, and you'll save time and money by skipping tours and other tourist traps.
5. If you have a kitchen, use it!
If you're staying at an Airbnb or accommodations that include a kitchen, take advantage of it! Head to the local markets and try to cook at least one meal each day. Be sure and take a look at coffee, produce and other items that are exclusive to the area. This not only saves you money, but also gives you a taste of the local flavors.
6. Avoid tourist traps.
Staying off the beaten track not only saves you money, but it can also reveal hidden gems that you would have otherwise overlooked! If there are certain landmarks that you're dying to see, go for it—but be sure and research other things to do and places to eat nearby. You may just uncover your favorite part of the trip!
7. Treat yourself at lunch.
You didn't go on vacation to penny-pinch, but you can still save (and splurge) on meals! Instead of dinner, plan your nice meal for lunch! Many restaurants match their lunch and dinner offerings, with lunch dishes being a bit cheaper.
8. Do your research.
Our best budget-friendly travel tip? Arrive prepared. If you're not emotionally tied to a specific destination but you're itching to explore, research the best destinations to explore on a budget. If you have a specific place in mind, some research may reveal that arriving a day or two earlier or later may save you hundreds and beat the crowds.
9. Know your insurance policies.
Travel insurance may sound like a smart idea, but there's a chance that your current car insurance policy already offers some type of protection. Read your policy or confirm with your insurance agent to make sure you're not paying for coverage that you already have.
10. Look into rewards programs.
Many airline carriers, hotel chains and credit card companies offer rewards based on frequent travel, accrued points and more. Check with your credit card company to see if they offer any exclusive savings, and be sure you're signed up for any carrier membership program so you can put those miles and points to use.
Once you return to the office, keep the money-saving ball rolling and revisit your retirement contributions! Check out our tips for how to maximize your 401(k).
The post Budget-Friendly Travel Tips To Save Money appeared first on Cartageous.