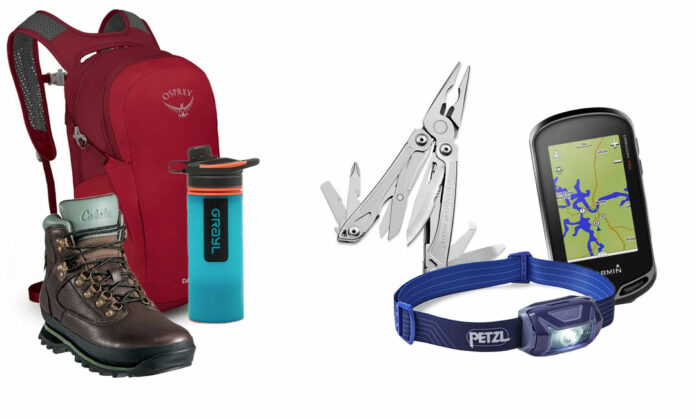 Disclosure: The hiking gadgets & gear below contain affiliate links, which means we'll receive a commission if you click on a link. We hope you like our picks — click or tap the titles to shop!
Springtime is the perfect season to hit the trails and explore nature. But before you embark on your hiking adventure, it's important to make sure you have the right gear and gadgets to make your journey safe and enjoyable. From backpacks to trekking poles, there are a variety of items that can enhance your hiking experience. We've rounded up 10 various gadgets and gear from REI and Bass Pro Shop to help you fully enjoy the beauty and serenity of a springtime hike. Check them out below!
Hit the trails with all your essentials packed away in this Osprey Daylite pack. Holding up to 13L of gear, it's lightweight, simple, durable and comfortable making it the perfect go-to pack to bring along with you on all your spring adventures.

Expect the unexpected and never feel unprepared with this Leatherman Wingman Multi-Tool from REI. This small but mighty tool is the perfect companion to bring with you when you're in the woods. With 14 tools in one, you'll be prepared for whatever nature has to throw at you.

These adjustable aluminum trekking poles are great for any long-distance outdoor excursion you may be taking this season and beyond. The 3-section poles extend from 26" all the way to 54", so they'll be the perfect height for anyone in your group. The poles also come with 2 different sizes of rubber-tip covers for hard surfaces, and a mud and snow basket to provide a solid base over different terrains, in different conditions.

Staying hydrated while your hiking is a must but sometimes you can't find fresh water that's safe to drink. Enter the Grayel GeoPress Bottle. This bottle acts as a water filter and purifier by removing viruses, bacteria, and protozoan cysts out of water for safe hydration. Simply fill the bottle from any freshwater source, press on the ground or other firm surface, and drink the purified water with confidence knowing you won't get sick.

Nothing makes a hike worse than poor shoe choices. Thanks to Cabela's Mid GORE-TEX hiking boots, that worry is a thing of the past! These mid-rise boots provide solid protection on any trail you tackle. 100% waterproof/breathable GORE-TEX membrane technology and moisture-wicking linings inside these rugged hiking boots keep feet dry and comfortable, rain or shine.

It can be easy to get lost in the woods, especially when you don't have any tools to help you navigate your surroundings. However, this Garmin Oregon 750 GPS will help you explore confidently like never before. Highly sensitive GPS and GLONASS satellites along with a redesigned antenna deliver excellent location accuracy, even in those challenging, are-you-sure-we-get-reception-here places. It's a little on the pricey side, but it's definitely worth the investment.

Keep your eyes protected while you hike this spring with these Knockaround Premiums Sport Polarized Sunglasses. With a UV400 rating, these sunglasses block 99 to 100 per cent of UV rays. Plus, the polarized lenses decrease eye strain by reducing visible glare from water, snow, sand, and pavement.

Thinking of doing some sight-seeing on your next hike? Don't leave home without these Bushnell All-Purpose Binoculars! Complete with an ergonomic design and featuring multicoated lenses and BaK-7 prisms, these binoculars are guaranteed to give you a bright, clear picture, all while staying comfortably placed on your face.

Until the days start getting longer, investing in a headlamp for later afternoon and evening hikes may not be such a bad idea. This Petzl Tikka Headlamp from REI is a must-have and easy-to-use option, while being compact enough to fit in your jacket pocket or backpack. Complete with single-button design, this headlamp can be tilted up or down, allowing you to properly illuminate your surroundings and keep you safe.

Say goodbye to sprays, and hello to these tick and insect repellent wipes from Ben's! These wipes will help you stay protected from disease-carrying bugs with a quick and easy swipe across your skin. And we all know that ticks and other insects are always worse in warmer weather so these will definitely come in handy while you're hitting the trails.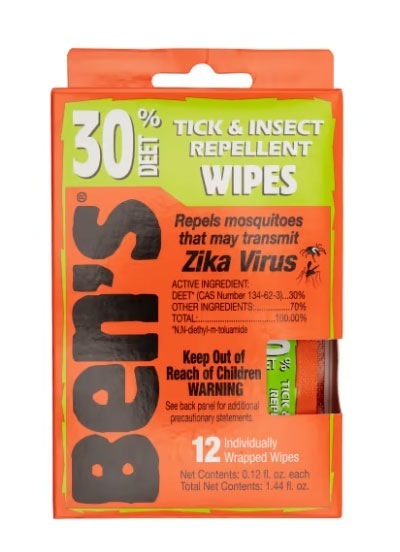 Hiking not on your to-do list this spring and these gadgets and gear aren't for you? Maybe shopping for a new spring wardrobe is more up your alley. Here are some fashion staples that will have you look fresh and ready to take on the warmer weather ahead!
The post Useful Hiking Gadgets & Gear for your Springtime Adventures appeared first on Cartageous.