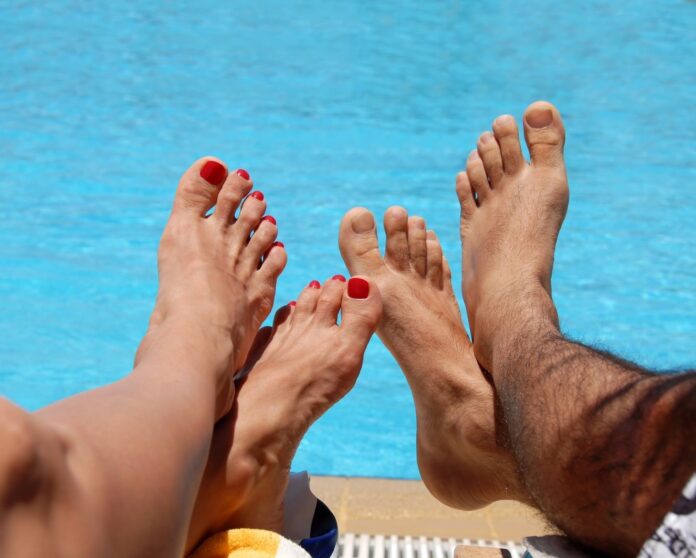 With warmer weather on the rise, you've most likely dug out your favorite pair of sandals or gladiators in anticipation of a hot day,  so now is the time to groom and polish your feet so you have a set of tootsies to be proud of! Contrary to popular belief, pedicures are not only meant for women, but men too. More men now realize the importance of maintaining appealing looking and healthy feet. Here are all the incredible benefits of a pedicure treatment:
It Prevents Infection
A regular pedicure treatment goes a long way to keeping your feet clean and removing any nasty bacteria that may be lurking around. Pedicures get rid of the dirt trapped under your toenails, and any foot conditions are detected early enough so that treatment can be sought. The use of essential oils in soaking can also help protect against bacterial infections, as well as remove foot odors.
Stops Formation of Calluses
Having a skilled nail specialist working on your feet will ensure the removal of tough calluses and they can soften corns.  A pedicure involves scrubbing and exfoliating the dead skin to reveal smoother feet and encourage new cell growth.
Enhances Relaxation and Blood Circulation
A pedicure comes along with an incredible foot massage that will make you relax while stimulating the blood flow to the entire leg. The increase in blood flow can help prevent the likelihood of developing varicose veins, as well as reduce pain.
Cosmetic Benefits
We all love people who have well maintained, clean feet. You will be pleased with yourself knowing that your feet look good and feel great!
If you want to give yourself a salon-perfect pedicure right at home, all you need is some basic home pedicure tools  and a little bit of patience. Here's how:
1) Soak feet in a Pedicure foot bath (or in the tub) for 10-15 minutes to soften the cuticles, nails and skin; add deep conditioning essential oils to the water if available
2) Dry feet using a clean towel and use a callus shaver or exfoliating stone to carefully trim or buff down any thick callused areas of the foot (do this gradually, as you only want to remove the thicker part that doesn't have any feeling)
3) Use a foot file or foot buffer to scrub the rough pads of your feet to smooth out any bumps and remove any dead/rough skin
4) Trim toe nails down to approx .05 to 1mm in length (don't go too short!) and file away any rough edges to prevent nails from catching on socks/sheets
5) Buff the tops of the toe nails to remove any bumps or discoloration
6) Remove any dirt from under the toe nails
7) Rinse feet to remove any sloughed off skin or nail dust and towel dry
8) Apply a heavy duty foot cream to smooth the skin and put on a pair of cotton socks afterwards to help seal in the moisture
Pamper your feet today with a relaxing pedicure treatment at the spa or at home. You can shop for pedicure supplies at Cartageous.com!
The post The Pedicure: Get Perfect Feet for Summer! appeared first on Cartageous.