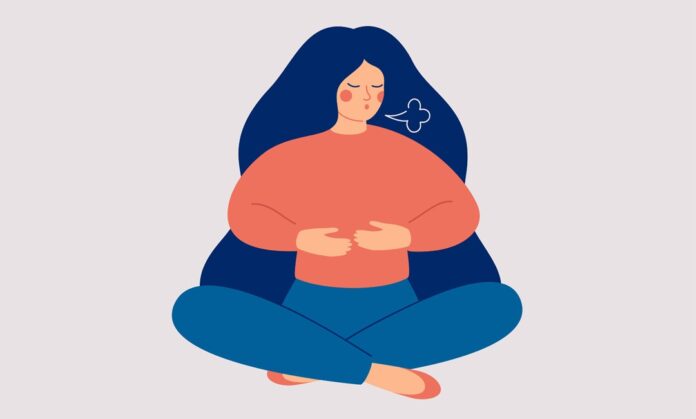 Experiencing belly troubles? Yoga can help. In addition to its pain-relieving and strengthening benefits, establishing a regular practice can also have a positive impact on your gut health and digestion! Ready to get started? Check out the gut-friendly yoga videos we've compiled below.
1. Gut-Friendly Yoga
Whether you've been on vacation or just vegging out on the sofa with your favorite shows, this all-level session from Yoga With Adriene will help you keep your lymphatic system and digestive health on track!
Duration: 18 minutes
2. Yoga for Bloating, Digestion, Ulcerative Colitis, IBD & IBS
Try this gentle routine from SarahBeth Yoga anytime you're feeling bloated, gassy or your IBS is flaring up. This mild movement session can even be repeated back-to-back!
Duration: 12 minutes
3. Yoga for Digestive Healing, Cramps, Bloating, Constipation
This yoga vid from Sara Quiriconi (Live Free Warrior) is an all-level flow that incorporates postures designed to heal indigestion, constipation and bloating.
Duration: 10 minutes
4. Therapeutic Yoga for Gut Health
This therapeutic yoga class from Yoga with Kassandra is ideal for dealing with the discomfort associated with bloating and constipation. Plus, this beginner-friendly class doesn't require any props, so you can do it anywhere!
Duration: 10 minutes
5. Yoga for Overeating, Bloating & Gas Relief
Whether you snacked a little too hard (it happens) or you're just experiencing some gastro-related discomfort, this calming and relaxing sequence from Arianna Elizabeth will help get you all squared away!
Duration: 20 minutes
6. Yoga for Trapped Gas, Bloating & Indigestion
If you're in need of a little, ahem, wind relief, then this class from Yoga With Bird is for you!
Duration: 10 minutes
7. Yoga Class to Improve Digestion & Reduce Bloating
This yoga sequence by YogiApproved is designed to guide you through yoga poses that will help you detox and debloat. There are no props required for this practice, so it's super easy to get started (and feel better).
Duration: 10 minutes
8. Yoga Practice for Healthy Digestive System
If you're dealing with a disturbed digestive system, this gentle exercise sesh from Bharti Yoga can help.
Duration: 25 minutes
9. Yoga for Constipation Relief, Cramps & Fatigue
When you're fatigued, have a rumbling tum, or experiencing period-related gastro distress, this easy class from BrettLarkinYoga will have you feeling better ASAP.
Duration: 20 minutes
10. Bedtime Yoga For An Upset Tummy
There is nothing worse than retiring for the night with an upset stomach. Thankfully this video from The Wild Gut Project can help change that.
Duration: 17 minutes
Searching for some easy throw-together dishes? Check out our favorite Buddha bowl recipes to keep you healthy and happy!
The post Gut-Friendly Yoga Videos That May Help Your Digestion appeared first on FitMinutes.