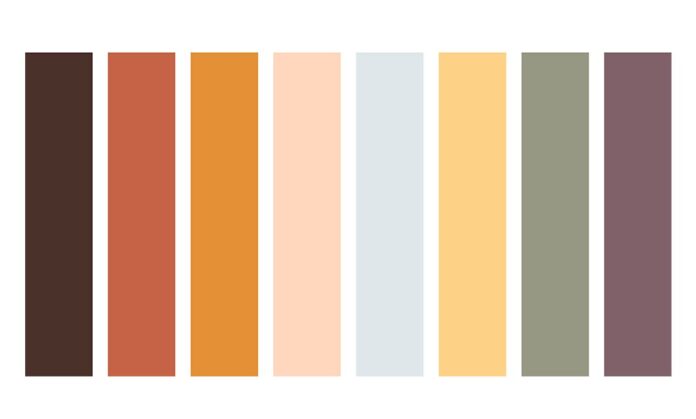 As the crisp breeze of autumn arrives, nature transforms its color palette into a stunning array of warm and cozy hues. So why not take inspiration from this breathtaking season and infuse your living spaces with the same inviting ambiance? Embracing fall-inspired color palettes can instantly revitalize your home, making it a haven of comfort and style. Whether you prefer earthy tones, warm oranges, serene lavenders, or rich burgundies, there's a color scheme that resonates with the essence of this beautiful season. gather your inspiration from the falling leaves and embark on a journey to create the ultimate fall-inspired retreat within your own four walls.
1. Rustic Elegance: Terra Cotta & Olive Green
Capture the rustic charm of fall with a palette that combines the earthy tones of terra cotta and the serene richness of olive green. Imagine your walls adorned with a warm terra cotta shade that echoes the falling leaves outside. Complement this base with accents in deep olive green—whether through throw pillows, curtains, or upholstery. The blend of these two colors creates an inviting space that beautifully reflects the cozy vibes of autumn.
2. Golden Harvest: Mustard Yellow & Deep Brown
Channel the harvest season with a palette inspired by the golden hues of ripening crops and the rich, dark earth. Mustard yellow, reminiscent of sunflowers and cornfields, pairs harmoniously with deep brown tones that evoke the warmth of freshly tilled soil. Incorporate these colors into your home through textiles, artwork, and decorative pieces. The result is an atmosphere that exudes the comfort of fall afternoons spent outdoors.
3. Cozy Comfort: Warm Orange & Creamy Beige
Nothing says fall quite like the warm, comforting embrace of orange and beige. Infuse your living spaces with the cozy feeling of sitting by a crackling fire with a palette that combines pumpkin-inspired orange and creamy beige. Paint an accent wall in a soft beige shade and use orange accents throughout the room to evoke the charm of autumn leaves. This palette radiates warmth and relaxation, making your home a perfect retreat from the cooling temperatures.
4. Woodland Retreat: Rich Brown & Forest Green
Embrace the enchantment of the forest during fall by incorporating rich brown and deep forest green into your home's design. Picture the elegance of a wooded landscape and translate that into your interior spaces. Paint your walls in a sophisticated deep brown shade, reminiscent of tree trunks, and accentuate with lush forest green details. Whether through textiles, furniture, or decorative elements, this color scheme creates a serene and grounding atmosphere.
5. Serene Sunset: Lavender & Dusty Rose
Not all fall-inspired palettes need to be dominated by earthy tones. Consider a softer, more whimsical approach by integrating the serene hues of lavender and dusty rose. These colors evoke the gentle beauty of a fall sunset—subtle, elegant, and tranquil. Use lavender as a primary color for your walls and incorporate dusty rose accents through textiles, cushions, and decorative pieces. This palette lends a touch of romance and sophistication to your home.
6. Moody Elegance: Deep Burgundy & Charcoal Gray
For those who appreciate a more dramatic aesthetic, a palette of deep burgundy and charcoal gray is perfect for fall. The intensity of deep burgundy is balanced by the cool neutrality of charcoal gray, creating an atmosphere of moody elegance. Consider using deep burgundy for statement furniture pieces or an accent wall, while charcoal gray can serve as a versatile backdrop for other elements in the room. This palette is ideal for creating a cozy yet sophisticated ambiance.
Looking to focus on getting your outside prepped and ready for the cooler months ahead? Here are 10 fall gardening tips that will leave your garden clean, tidy, and ready-to-go for when spring rolls around.
The post Fall-Inspired Color Palettes to Bring Into Your Home appeared first on InStyleRooms.