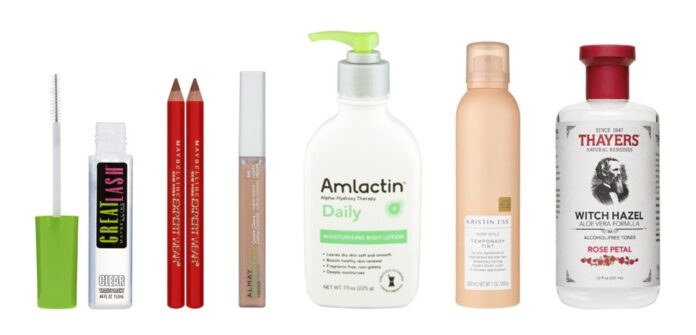 You know how the story goes… you walk into Target needing one thing and 3 days later come out with a shopping cart full of goodies you never knew you needed, but ohhhh how you need them. Don't be so hard on yourself—it's not your fault Target's in-store and online shelves are stocked with the best of the best. No one stands a chance against their home décor department. And their beauty section? Pssh. Good luck not spending an hour in those aisles full of inexpensive must-haves. Speaking of, read on to view our favorite beauty products from Target under $30.
MAKEUP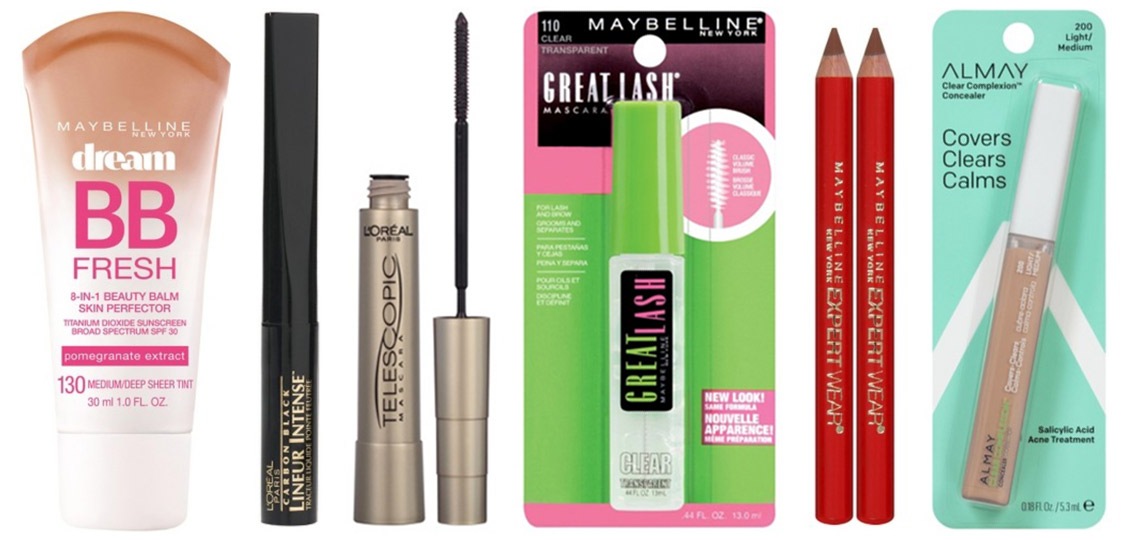 Maybelline Dream Fresh BB Cream, $7.39
We said sayonara to foundation a long time ago. BB creams not only offer the perfect amount of coverage and tint, they also do double/triple/quadruple duty by evening out your skin, masking blemishes and protecting your sweet face from the sun with SPF. This particular all-in-one feels delightful on the skin.
L'Oreal Paris Lineur Intense Felt Tip Liquid Eyeliner, $7.99
Have you given up on perfecting the cat eye look? Meet your new best friend. The felt tip acts like a marker making it really easy to glide on. Bonus: this eyeliner isn't going anywhere—it stays on alllll day.
L'Oreal Paris Telescopic Original Mascara, $8.39
This isn't just our go-to mascara, it's also a must-have for a few of our makeup-obsessed friends. It works as well as our favorite MAC mascara but it's half the price. Keep it simple with one application or layer it on for extra oomph.
Maybelline Great Lash Clear Mascara, $4.39
The secret to good brows is in this clear container. Swipe your eyebrows with this gel to keep them in place and spot where you need to fill in any patches with the pencils below.
Maybelline Expert Wear Twin Brow & Eye Pencils, $2.99
These pencils are the shining stars of our makeup bag. Pro tip: sharpen the pencil before every use, then draw on a tissue to make sure they're soft and ready to distribute color.
Almay Clear Complexion Concealer, $6.29
Dark under eye bags and pimples, be gone! This wizard-like concealer contains salicylic acid to help heal blemishes while it hides them, and its wand makes it easy to apply. It also works as a great foundation when you're in a rush.
Hair Care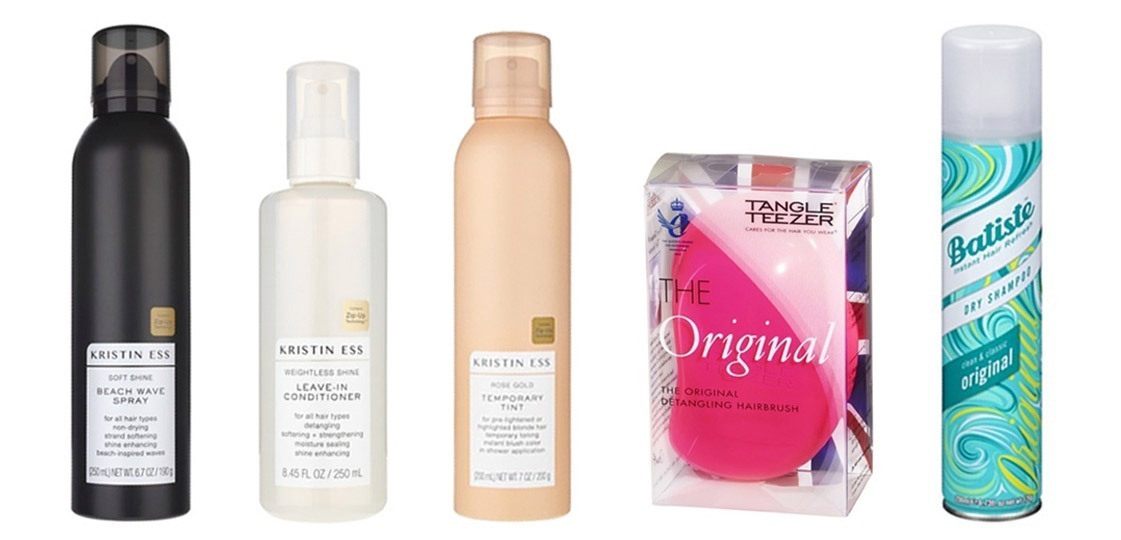 Kristin Ess Rose Gold Temporary Tint, $12
Yay for us! Celeb hairstylist and Instagram superstar Kristin Ess recently launched her own line of hair products at Target. There are amazing beach wave sprays, leave-in conditioners and this super fun tinted hair color that will give your locks a temporary rose gold hue for 1-3 shampoos. Spray it on damp hair for a dramatic look or wet hair for more subtle color.
Tangle Teezer The Original Hair Brush, $9.59
This little brush creates a soft I-spent-hours-on-this look on dry hair. It also helps remove tangles from wet hair paired with a good leave-in conditioner, but we like it best with a little dry shampoo and dry hair. Keep it in your purse or gym bag to easily and effortlessly style on the go.
Batiste Original Clean Dry Shampoo, $5.99
This miracle has legit saved our lives on busy mornings. It works better than any other expensive dry shampoo on the market, and trust us, we've tried them all. Hold it a few inches away (not too close!) from your side and top roots, spray just a bit and let it sit while you brush your teeth. Then take your best beauty tool aka your hands, flip your hair over, massage it a bit and finish with a few strokes of the Tangle Teezer brush. They offer different scents, but we find the original works the best. They also have love for brunettes and lightweight travelers.
SKIN CARE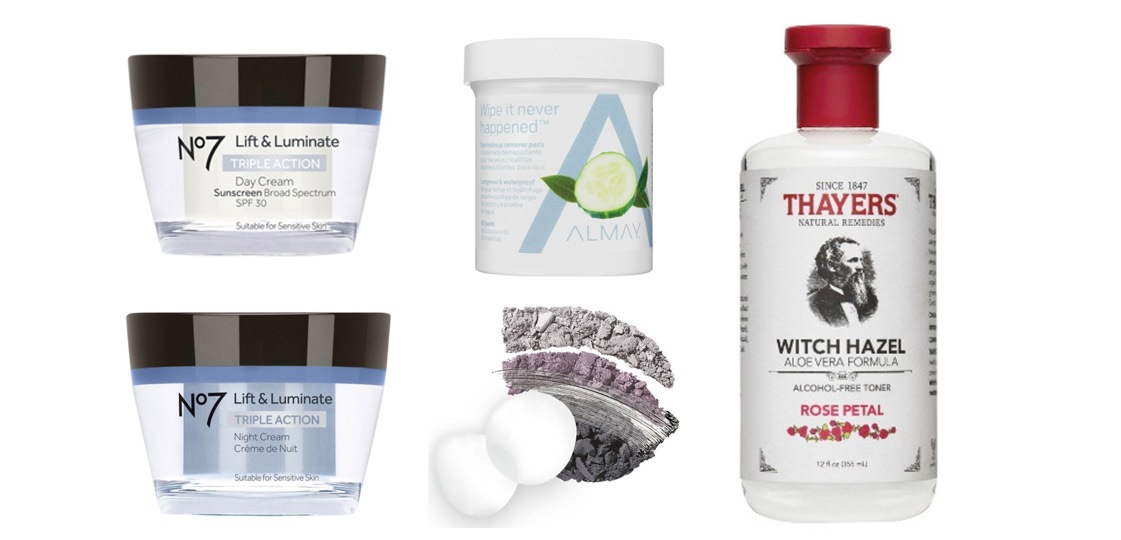 No7 Lift & Luminate Triple Action Day and Night Creams, $26.99-$77.99
We've been using these powerful creams for years, and we have no intention of stopping anytime soon. We don't start the morning without the day cream that reflects light and makes for glowy skin. It's perfect for those days you don't feel like wearing makeup, and it protects skin with SPF 30. The night cream is thick (but not greasy) and full of ingredients that promise fewer wrinkles, lightened dark spots and lifted, firmer and radiant skin.
Almay Wipe It Never Happened Eye Makeup Remover Pads, $4.19
These moisturizing pads will remove any and all eye makeup. Take a pad and gently swipe it on your lashes and lids. It's a bit oily, so use a tissue to remove any leftover moisture and makeup. On nights when we get a little crazy with eyeliner, we use a Q-Tip to help us out. Not into moisture? You'll like their oil-free version.
Thayers Witch Hazel Alcohol-Free Toner in Rose Petal, $10.95
If toner isn't included in your skincare regimen, this is the one that will make you a believer. This rose water, cruelty and sulfate-free formula tightens your pores without drying out your skin. It also smells heavenly and feels like a fancy treat.
Bath, Body, Feet & Nails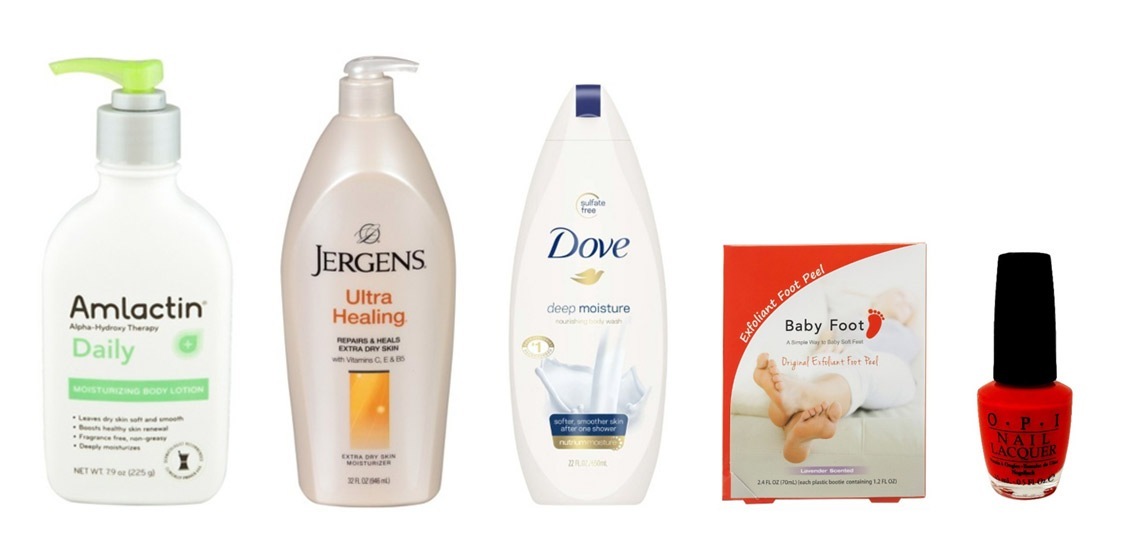 Amlactin Alpha-Hydroxy Therapy Daily Moisturizing Body Lotion, $11.70
You know those pesky little bumps that annoyingly set up shop on your arms and back of your thighs? We sure hope you're not emotionally attached to them because this lotion will gently exfoliate and melt them away thanks to its blend of lactic and Alpha-Hydroxy acids.
Jergens Ultra Healing Lotion, $7.99
This is another great body lotion that not only smells fresh but also does what it promises—creates soft and smooth skin. Get in the habit of slathering it on (don't forget your feet!) fresh out of the shower when your skin is still wet. Throw on a robe to let it soak in a bit before toweling off.
Dove Deep Moisture Body Wash, $5.89-$10.99
We can't leave this goodie off the list. It promises smoother and softer skin after just one use. Sold! Pour just a few drops into your hands and rub them together for an impressive lather, then massage over your entire body for a refreshed, clean and soft feel.
It's almost sandal season which means it's the perfect time to use this so wonderfully gross and so wonderfully effective science experiment for your feet. Be sure to read the instructions—most importantly to soak your feet in warm water for 20 minutes before you place them in the booties. And a couple others—don't pick and be patient. In about 4 days, old tough skin will float off right before your eyes while you're soaking your feet. We told you—so gross, yet so effective. Your feet will look and feel amazing in about a week. Pro tip: give your partner a heads up if you're soaking your feet while sitting on the couch. It's just the right thing to do.
OPI Nail Polish in Cajun Shrimp, $8.69
This is one of our favorite nail polish brands and colors. The bright orange/reddish tent complements all skin tones and is the perfect shade for spring and summer. A close second is Essie's Bubble Bath for those who like less in-your-face hues.
What are some of your favorite Target beauty products? Let us in on your secrets in the comments below!
The post Best Beauty Products from Target Under $30 appeared first on Cartageous.