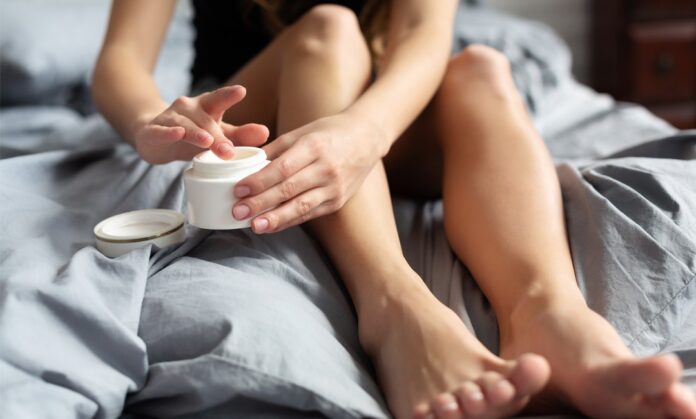 Don't be so hard on yourself—when the seasons change, so does your skin. And if your skin is feeling a bit flaky or rough, you're not alone. Winter's cold temps and harsh conditions can cause stressed skin. Lucky for us, there's something we can do about it. Keep reading for some tried and true tips on how to fix dry skin and get back your glow, plus some of our favorite non animal-tested, cruelty-free products.
1. Wash with Gentle Body and Face Cleansers
We don't mean to freak you out, but your body and face cleanser could be one of the culprits of your dry skin. No matter how lather-y they are, some cleanser strip away your natural moisture. Go get yourself a gentle cleanser that you can use morning and night. We like Pacifica's Coconut Milk Cream to Foam Face Wash and Alba Botanica's Coconut Rescue Bath and Shower Gel.
2. G is for Glycolic Acid
Acid? On your face? Yes. Glycolic Acid is a super hero at exfoliating skin, thus creating a smoother texture and brighter complexion. (We really like those things!) Start with a 5% mixture as anything more than that can be quite intense. We like Pixi Glow Tonic. Remember when using facial products, don't stop at the beginning of your neck—bring them all the way down to your decolletage too!
2. Exfoliate Your Little Heart Out
Okay, don't go too crazy. You can actually harm your skin if you get too rough with it. Treat your body (and face!) to a weekly exfoliation. This will help remove dead skin cells and resurface your skin so your moisturizer can reach deeper layers. There are plenty of body and face moisturizers out there. We happen to like Ocean Salt, a face and body scrub by Lush Homemade Cosmetics.
3. Moisturize Like You've Never Moisturized Before
You may want to opt for a thicker lotion and moisturizer than the ones you sue during the summer months. A trick we like to use is keeping a bottle of lotion in the shower. When you turn the water off, lather your body with lotion while your pores are still open, then use your towel to rub it in. We're big fans of Alba Botanica and are obsessed with their Very Emollient Maximum Body Lotion. We also swear by the Lift & Luminate Triple Action Day & Night Creams by No7.
4. Don't Forget About Your Hands
Make sure your hands are feeling the love too. Apply hand cream after each time you wash your hands, since washing them in dry, cold conditions can quickly lead to dryness and irritation. We like Burt's Bees Ultimate Care Hand Cream.
5. SPF is Your Bestie
When it's 20 degrees outside and you can't feel the sun's blazing heat, it's easy to forget your skin still needs UV protection. Even when there's an overcast, UV rays can penetrate the clouds and reach your skin. Plus, snow on the ground reflects the sun's rays, raising your risk of UV exposure. Put on some moisturizer containing SPF of 15 or higher on all exposed skin before you spend time outdoors. We love Supergoop's Everyday Sunscreen.
6. Drink Plenty of Fluids
Your hydration level affects every cell in your body, including your skin cells. When you get dehydrated, your skin is the first to be affected because your body draws fluid from skin cells and delivers it to vital organs. In the winter, the lack of heat and sweating can deceive you into feeling you need less water. The truth is, inhaling colder, dryer air requires more hydration than breathing in warm, humid air. Drink more fluids than you think you need so you can keep your skin well hydrated. Keep a favorite water bottle on hand to remind you to drink up!
7. Use a Humidifier
Having a humidifier at home in the winter time, especially when you sleep, can help you recover from exposure to the elements and dry indoor heating.
8. Give Special Care to Your Lips
Exfoliate rough, peeling lips with lip exfoliator and moisturize with ointment like petroleum jelly. Use chapstick that contains SPF when you go outside. Don't feel like you need to purchase a lip scrub though! You can make your own DIY lip scrubs at home with some simple ingredients.
9. Supplement with Essential Fatty Acids
Winter has a way of stripping your skin of its natural oils, but supplementing with essential fatty acids can help restore them. Healthy skin requires essential fatty acids, which include omega-3s, omega-6s and omega-9s, to produce its natural oils. Supplementing with fish oil or flaxseed oil can help you get more omega-3s, while hemp seed oil gives you a well-rounded dose of omega-3s, 6s and 9s.
Want to view more of our favorites? Check out these 9 Awesome All-Natural Beauty Products Under $45.
The post 9 Tips to Fix Dry Skin appeared first on Cartageous.