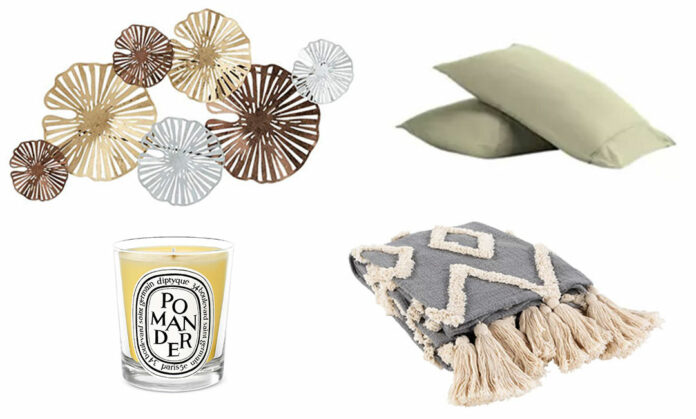 Disclosure: The affordable elegant finds below contain affiliate links, which means we'll receive a commission if you click on a link. We hope you like our picks – click or tap the titles to shop!
Curating and creating an elegant home does not have to break the bank. With creativity and some do-it-yourself (DIY) projects, there are many ways to elevate your home space, on a budget. As we approach the holidays, it is a perfect time to tackle small changes within your home to add a pop of color, texture or new style to your space. Here are 7 tips and tricks to elevate your home – affordably!
1. Declutter & Organize
The first step to elevating your home is to declutter and organize your space. A clutter-free environment is the perfect blank cavas for any home project. Take time to sort through your home and remove clutter by hosting a yard sale or donating unwanted items. Invest in stylish storage bins or baskets to organize your living spaces and add a fun design element. Check out free Youtube videos or blogs for tips and tricks to maintaining an organized home and advice for storage ideas.

Ashley Furniture, Furinno Basic 3×2 Bookcase Storage with Bins, $66.99
2. Incorporate New textures
Incorporating textures into interior design is a fun way to elevate any space. Texture adds dimension to any room, and can be incorporated through affordable items like a natural fibre rug or woven throw blanket.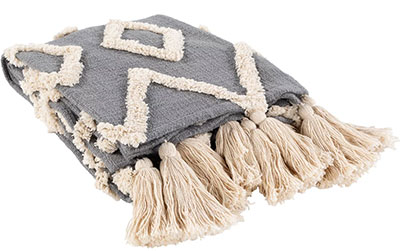 Ashley Furniture, Surya Verdes Throw Blanket, $125 $62.99
3. Source a Signature Scent
The sense of smell is considered our strongest sense, so it's no surprise that the scent of your home may be the first thing your brain notices when you walk through the front door. Elevate your home by discovering an affordable signature scent for your space. Consider purchasing a  bouquet of fresh flowers or picking up a new candle to try.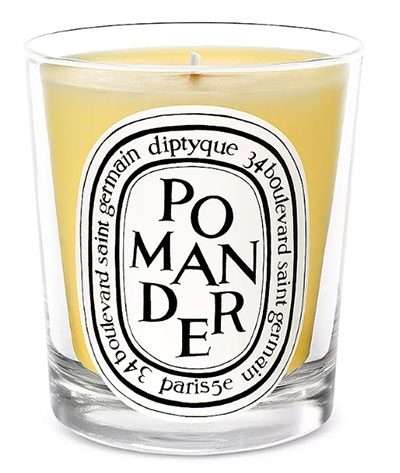 Bloomingdale's, Diptyque Pomander Scented Candle, $74
4. Design a Feature Wall
While painting your entire home may be out of budget, investing in a feature wall for a pop of color is a creative way to elevate any space. A feature wall adds character to any room and allows the incorporation of additional colors. Go bold by adding a new color or play it safe by painting a feature wall either two times lighter or two times darker than the rest of your wall colors. Not feeling up to painting an entire wall? Try adding some wall decals for the perfect DIY project for a rainy day!

Zulily, Ambiance Stickers, Adrennes Stone Wall Decal, $13.29
5. Upgrade Hardware
A simple swap of your home's hardware (i.e., kitchen cabinet handles, light fixtures, mirrors) can elevate a space and bring a new level of elegance to your home. Opt for gold, silver or modern textures to add a new element to an outdated space, and functionality for a kitchen, washroom, or general living space.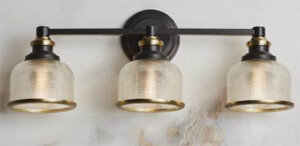 Lamps Plus, Possini Euro Poway 24″W Bronze and Glass 3-Light Bath Light, $269.99 $199.95
6. Swap Pillow Cases
Forget buying new pillows! An affordable yet elevated upgrade for your home includes switching out your pillowcase covers. Change your pillowcases to add a pop of color or texture to your home, or even highlight fun seasonal décor for the holidays like Christmas or Halloween! Shop trendy fall colors like neutral browns and greens or opt for capsule basics like white, grey or beige.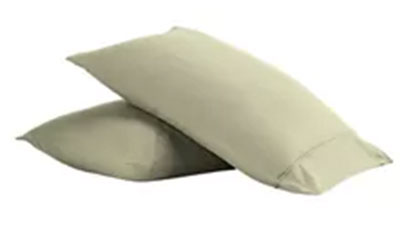 belk, Luxury Inn Premium Ultra Soft 2-Piece Pillow Case Set, $38 $19
7. Incorporate Statement Pieces
Transform your living space with statement pieces—affordable treasures that redefine your home's elegance. These unique accents, from bold artwork to vibrant accent chairs, infuse personality and style into any room without breaking the bank. Elevate your space effortlessly by strategically placing these conversation starters, creating a curated atmosphere that reflects your taste.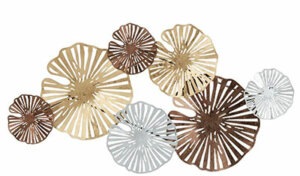 Lamps Plus, Ponderay 40 3/4″ Wide Modern Multi-Color Fan Metal Wall Art, $129.99 $64.95
Is your home feeling organized and elevated? It's time to tackle bringing color and warmth into your home. Check out our fall-inspired color palettes to bring into your home!
The post 7 Affordable Ways to Elevate Your Home's Elegance appeared first on InStyleRooms.