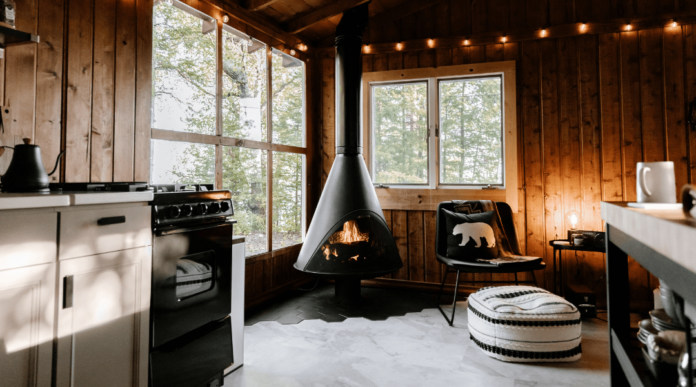 There is no better feeling than cozying up next to a fireplace on a cold winter's day with a good book and a cup of tea; a cabin-inspired home can bring just that feeling. This home design style draws inspiration from cabins traditionally tucked in the woods, giving your home that cozy feeling no matter if you are in an urban, suburban or rural neighborhood. Whether you're nestled in the mountains or navigating city life, here are 10 tips to guide you in designing a cabin-inspired haven that beckons warmth and comfort during the cooler months.
1. Warm Color Palette
Embrace the rich hues of nature by incorporating warm colors into your cabin-inspired home. Think deep earthy tones like warm browns, rustic reds, and forest greens. These colors not only mimic the outdoor landscape but also create a cozy ambiance, perfect for snuggling up with a blanket and a cup of hot cocoa.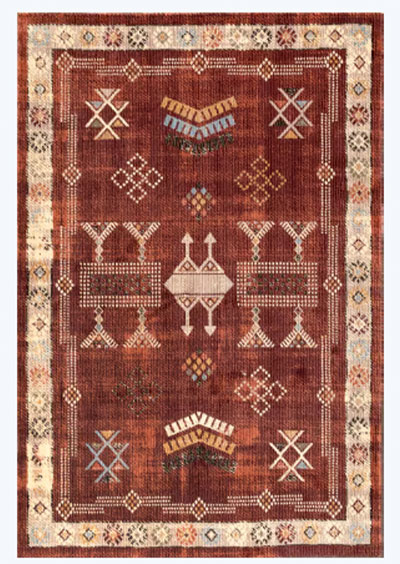 Rugs USA, Red Bordered Symbolism 5′ x 8′ Area Rug, $585.50 $117.10
2. Wooden Elements
Nothing says cabin like the presence of wood. Infuse your space with the natural warmth of wooden elements. Opt for exposed wooden beams, hardwood floors, or even a statement wooden wall. This not only adds to the aesthetic but also brings in a touch of nature, making your home feel like a retreat in the woods. Not sure about a wooden wall? No sweat, try adding a wooden dining set to give you the tried-and-true cabin vibe.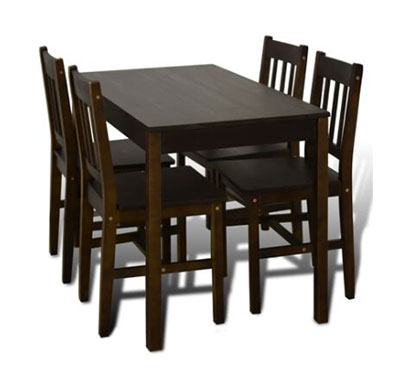 Vidaxl, Wooden Dining Table with 4 Chairs Brown, $499.99
3. Fireplace Additions
A fireplace is the heart of any cabin-inspired home. If you have the luxury of space, consider installing a traditional wood-burning fireplace. If not, there are plenty of electric or gas options that mimic the flickering glow and warmth of a real fire. Arrange plush furniture around it for the perfect reading nook or gathering spot.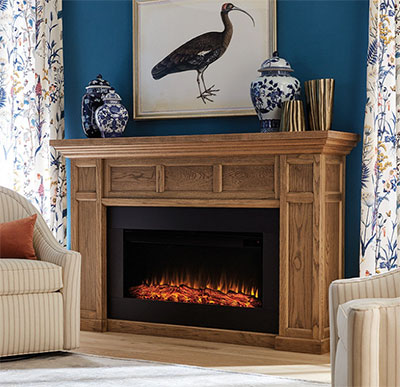 Ballard Designs, Waldorf Electric Wall Mounted Fireplace, $2,499 $1,999.20
4. Plaid & Knit Décor Options
When it comes to cabin decor, plaid is your best friend. Incorporate plaid patterns into your upholstery, throw pillows, and blankets. Knitted textures also add a layer of coziness. Imagine sinking into a plaid-covered armchair with a knitted throw on a chilly evening—it's the epitome of cabin comfort.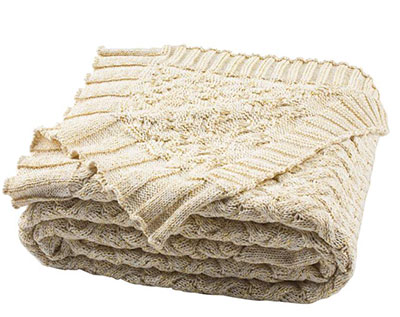 Lamps Plus, Safavieh Adara Natural and Gold Knit Throw Blanket, $79.91
5. Nature-Inspired Décor
Bring the outdoors in by incorporating nature-inspired decor. Consider using elements like pinecones, twigs, and branches in your decor. Natural fabrics like burlap and linen can also add a rustic touch. Consider displaying dried flowers or creating a centerpiece with seasonal foliage.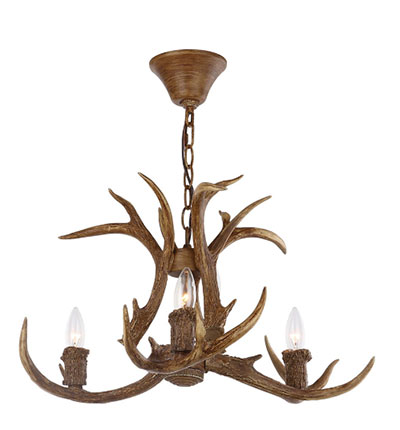 Ashley Furniture, Antler Chandelier, $160.99
6. Layered Textures
Create visual interest and tactile comfort by layering different textures. Mix and match soft rugs, furry throws, and smooth leather upholstery. This not only adds depth to your decor but also provides a sensory experience that enhances the overall coziness of your space.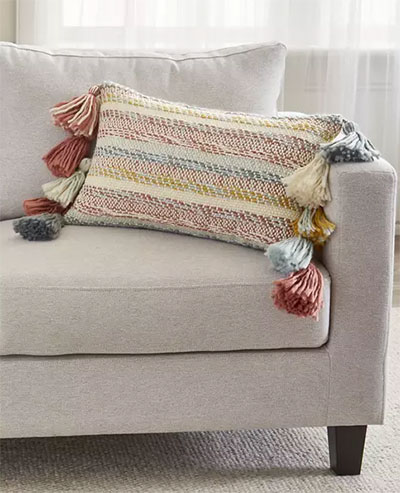 belk, Waverly Marimba Decorative Pillow, $80 $32
7. Mood Lighting
Lighting plays a crucial role in setting the mood. Opt for warm, soft lighting to create a welcoming atmosphere. Consider using table lamps, floor lamps, or even string lights to add a touch of magic. Dimmable lights are also a great option, allowing you to adjust the brightness based on your desired ambiance.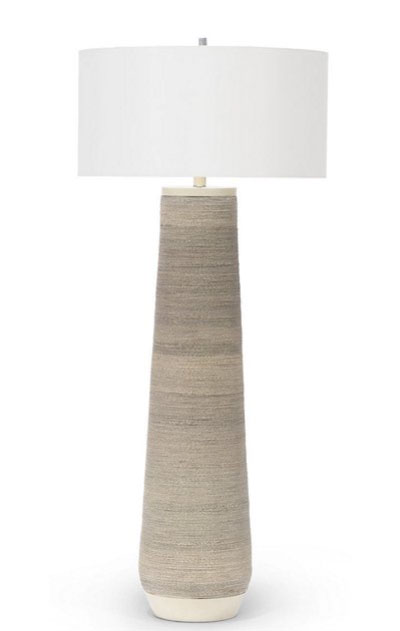 Lumens, Aviana Rope Floor Lamp, $3,574
8. Functional Furniture
Choose furniture that not only looks good but is also functional and comfortable. Think overstuffed sofas, rocking chairs, and large dining tables. Furniture with distressed finishes or vintage pieces can add character, contributing to the rustic charm of your cabin-inspired home.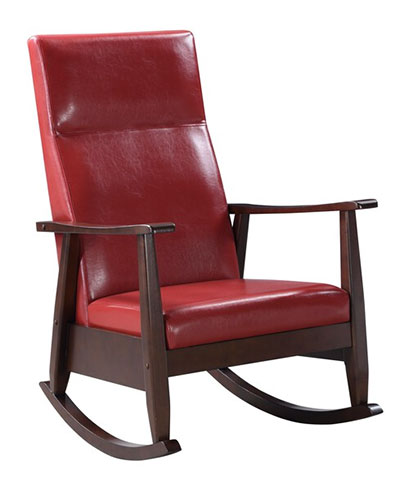 Brylane Home, Acme Rocking Chair Seating, $529.99
9. Cabin-Inspired Artwork
Infuse your walls with artwork that captures the spirit of cabin living. Consider landscape paintings, wildlife photography, or even simple wooden signs with rustic quotes. Personalize your space with pieces that resonate with the cozy, cabin aesthetic you're aiming for.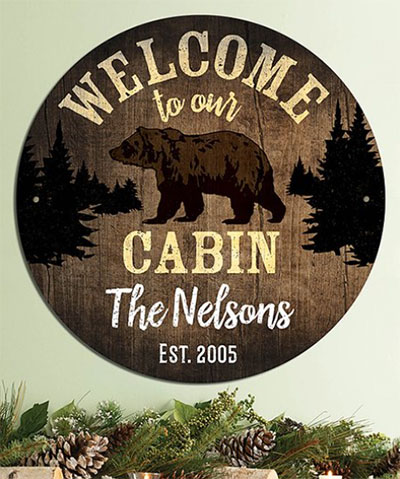 Zulily, Personalized Planet, 'Welcome To Our Cabin' Personalized Tin Sign, $21.99
10. Warm Beverage Station
Create a dedicated space for warm beverages like coffee, tea, or hot cocoa. Set up a cozy corner with a rustic coffee station complete with mugs, a kettle, and an assortment of teas. It not only adds a practical touch but also serves as a charming focal point for your cabin-inspired home.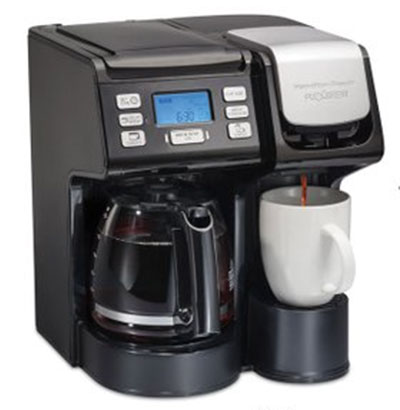 Zulily, Hamilton Beach Black FlexBrew Trio Coffee Maker, $99
If you are wanting more ways to cozy up your space, check out these eight cozy fall finds for your home.
The post 10 Tips for Designing a Cabin-Inspired Home for the Cooler Months appeared first on InStyleRooms.