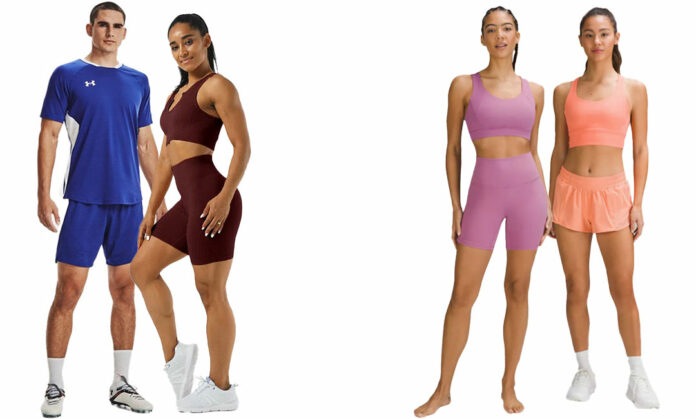 Disclosure: The matching sets below contain affiliate links, which means we'll receive a commission if you click on a link. We hope you like our picks – click or tap the titles to shop!
Trying to find the motivation to hit the gym can sometimes feel impossible. Having to get out of bed earlier than usual to go work out can feel like such a chore when your bed feels oh so inviting; opting for sweats and snacks can seem easier than grabbing your sneakers after a long day at the office. However, what we've learned over the years is that sometimes, all you need to crush a good workout is some stylish active wear. Feeling good in what you're wearing can help give you some added motivation to get your body moving and grooving. So, we've rounded up some cute and comfortable matching sets that will (hopefully) get you excited to get sweating! Check out 8 of our fav matching sets below.
1. lululemon
AlignTM Bra Light Support, C/D Cups, $58
Perfect for those low impact activities, the AlignTM Bra will wrap in you in buttery softness while you finish off your sun salutation.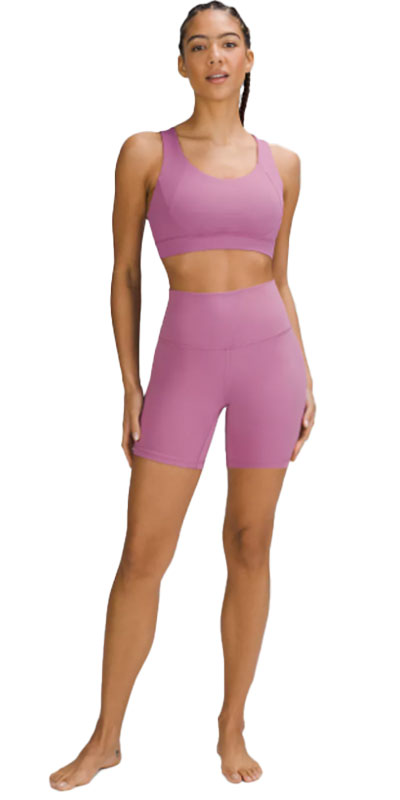 AlignTM High-Rise Shorts, 6", $64
Pair your AlignTM Bra with these fav favourite 6" high-rise shorts in Velvet Dust. Powered by NuluTM fabric, these shorts are going to feel weightless on your skin, resulting is overwhelming comfort for the entirety of your workout.
2. Under Armour
Men's UA Match 2.0 Jersey, $40
From the playing field to the gym, this ultra-lightweight jersey is made to move. Made from sweat-wicking material, it will keep you cool and refreshed while you score some major points.

Men's UA Match 2.0 Shorts, $28
Combine the UA March 2.0 shorts with the jersey to create the ultimate powerhouse duo. The 4-way stretch material of these shorts will help you move faster in every possible direction. Plus, with 9 color options, you'll look styling while you do so!
3. Halara
Seamless Flow Ribbed Knit Tank Top & Cycling Shorts Set, $39.95
Whether you want to lounge, train, or jog, this Seamless Flow Ribbed Knit Tank Top & Cycling Shorts set from Halara will have you covered. The set combines seamless contouring with a high-waisted fit, leaving you feel confidant and comfortable for any workout.

4. lululemon
Like a Cloud High-Neck Longline Bra, Light Support, B/C Cups, $68
Looking for a sports bra that will help keep you supported, but comfortable all while you train? Look no further than the Like a Cloud High-Neck Longline bra from lululemon. Made with marshmallowy-soft foam cups and supple fabric, this bra will keep you comfortable yet stylish while you reach new heights in your yoga practice. With its sweat-wicking material and 4-way stretch, we wouldn't be surprised if you kept this on even after your yoga sesh had ended!

AlignTM High-Rise Pant, 25", $98
The AlignTM High-Rise Pant is a cult classic – period. Made from buttery-soft material, they're so weightless, we bet you'll even forget you're wearing them! With the fewest seams possible, they create unending smoothness. Paired with the Like a Cloud-High Neck Longline Bra, this matching set will be the envy of everyone you see in your next flow class.
5. lululemon
Energy Longline Bra Ribbed Luxtreme, Medium Support, B-D Cups, $58
Need a few fav sports bra? We can almost guarantee it will be this one. The versatility of the Energy Longline Bra is impeccable and it's perfect for those medium to high impact activities you have on your plate. Made from LuxtremeTM fabric, this bra has soft rib0like texture on one side and smooth face next to your skin for added comfort. *adds to cart*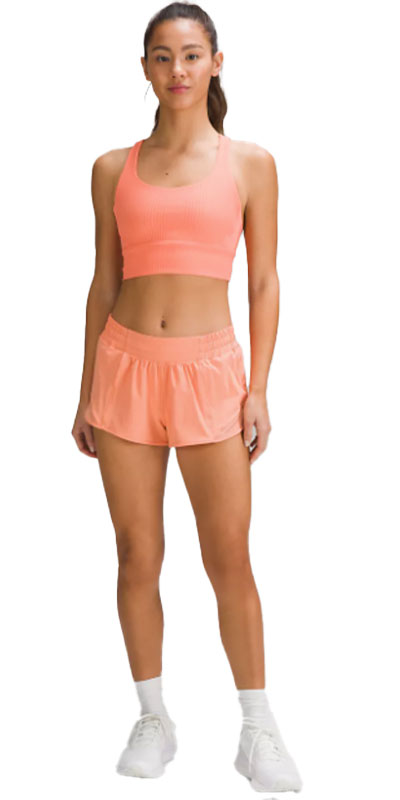 Hotty Hot Low-Rise Lined Short, 2.5", $68
The Hotty Hot Low-Rise Lined Short will make the perfect accompaniment to the Energy Longline Bra, helping you max out your stride and achieve allll the new PRs during your next training session. These shorts have a bit more room to let you move freely and smoothly.
6. Bloomingdale's
Sweaty Betty, Spark Seamless Workout Top, $78 $54.60
This Sweaty Betty Seamless Workout Top is ½ of the ultimate matching set. Created from an allover metallic thread, this cropped long sleeve has a ribbed hem detailing that creates a stunning silhouette.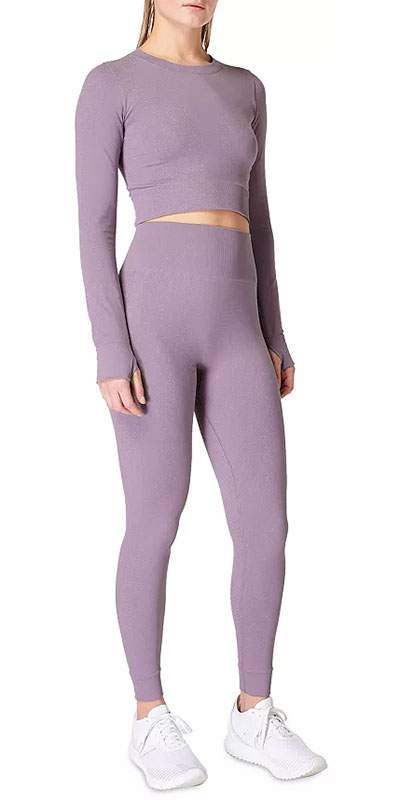 Sweaty Betty, Spark Seamless 7/8 Workout Leggings, $98 $73.50
These Seamless 7/8 workout leggings will help you achieve new heights in your next training sesh when paired with the matching long sleeve top. A wide elasticized waistband creates ultimate comfort while helping you stay trendy next time you hit the gym.
7. lululemon
Free to Be Bra – Wild, Light Support, A/B Cup, $48
Add a little flair to your next matching set with this Free to Be Bra – Wild. This strappy, open-back bra is ready for all the ways you move and stretch. Made from LuxtremeTM fabric, this bra offers slick and low-friction support and has added Lycra® fibre for stretch and shape retention.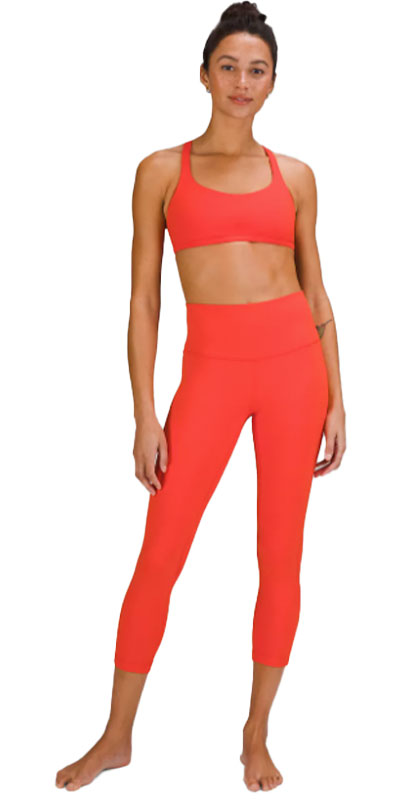 AlignTM High-Rise Crop, 23", $88
We just can't get enough of the AlignTM High-Rise Crop! These are the perfect addition to the Free to Be Bra – they're breathable, weightless, and provide the ultimate combo of style and comfort.
8. Under Armour
Move freely and effortlessly, while staying supported and comfortable with this Armour Tank. Smooth, lightweight fabric delivers superior coverage without weighting you down. With a conservative cropped silhouette, you'll feel confident to smash your PRs next time you're in the gym.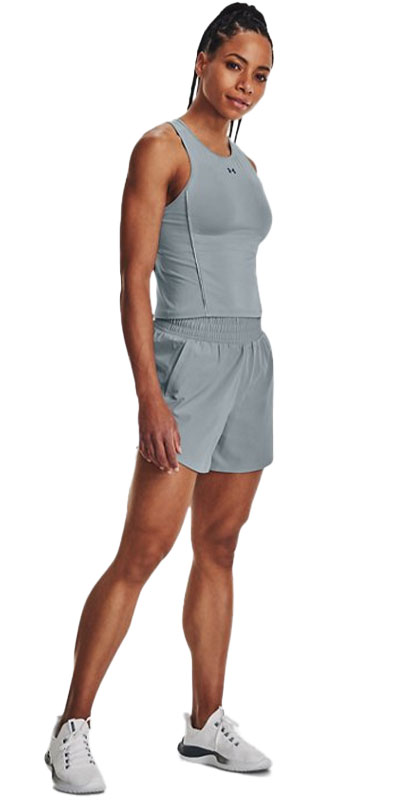 Women's UA Flex Woven 5" Shorts, $40
These Flex Woven 5" shorts are a must-have for any athlete. Lightweight and breathable (just like the Amour Tank), these are a fundamental workout wardrobe staple to help you reach your goals in and out of the gym.
Need some new sneakers to go with your new matching set? Check these out!
The post Matching Sets That Will Jumpstart Your Workouts This Spring appeared first on FitMinutes.