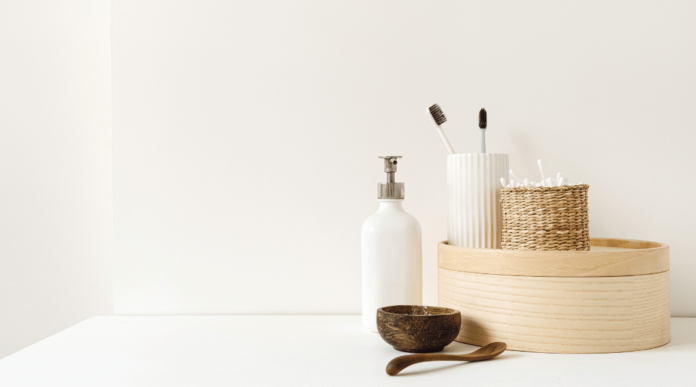 In our quest for an organized and functional home, the often underrated yet highly essential space—the bathroom—deserves our attention. Far more than just a place of daily routines, your bathroom can become a sanctuary of efficiency and elegance with the right storage solutions. Whether you're contending with a compact powder room or a sprawling master bath, the key lies in maximizing every inch of space. From ingenious shelving ideas that transform vertical voids into valuable storage real estate, to creative under-sink solutions that declutter while adding a touch of style, we've rounded up 6 smart ways to elevate both the functionality and aesthetics of your bathroom – most are renter friendly, too!
1. Swap a mirror for a cabinet
Medicine cabinets are slightly thicker compared to a standard mirror, but open to provide additional storage space and shelving. Utilize the additional space to keep medication away from toddlers and pets, store skincare products and have a readily available first aid kit.
2. Upgrade your shower storage
Your daily shower can feel like a spa experience – and even provide extra storage! Invest in a stylish shower caddy or suction-cup shelves to store shower time essentials. Suction hooks can hold loofahs, sponges and razors while a shower caddy can hold haircare and body care products.  
3. Utilize toilet storage space
Utilize the space above a toilet to install a floating shelf or small cabinet to store toilet paper, cleaning supplies or bath products. This storage space can be both stylish and functional by adding a candle, woven basket or artificial plant. For a renter friendly option, skip the shelf and invest in a toilet storage rack, designed to provide a 'cut out' for the toilet area and multiple shelves of storage space above.
4. Invest in a freestanding storage piece
Freestanding storage pieces, like a cabinet with drawers, come in a variety of sizes and shapes to suit many bathroom styles and designs. If a bathroom is lacking built-in storage options, invest in a freestanding cabinet. A cabinet as a storage piece hides clutter that may otherwise be displayed on a bathroom counter, adding to the peaceful and calming environment of an organized bathroom space.
5. Optimize under-the-sink space
Under the sink storage is an often forgotten about place, but optimal for additional storage within a bathroom! Clear bins and organizers can allow you to sort cleaning supplies, sponges and overflow bathroom products. Try adding a tiered shelf to maximize under-the-sink storage space.
6. Install floating shelves
Floating shelves are an easy way to visually elevate any space and add more storage. Floating shelves add a place to show-off skincare products, candles and makeup tools. Try organizing your toothbrushes, room spray or perfumes on a floating shelf – the possibilities are endless and efficient for storage in a small space.
Ready to add more storage space to your entire home? Check out our clutter-hiding furniture ideas to keep all your spaces spotless!
The post 6 Smart Ways to Optimize Your Bathroom Storage appeared first on InStyleRooms.