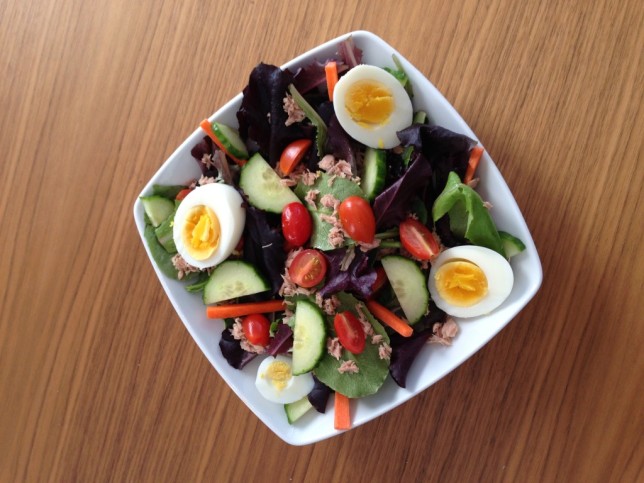 Chef Salad
A delightful lunch with little to no effort needed. This salad takes all the guess work out of "what will I have for lunch today?"
If you are in the process of trimming fat from your diet and the thought of meal preparation makes you stressed, this salad is for you.
The ingredients listed for this recipe are simply a guide to follow. If you don't have an item just replace it with a vegetable you do have in the fridge. However, the hard boiled eggs and tuna are a must to satisfy the taste buds and leave you feeling fulfilled.


Chef Salad
1 hard-boiled egg, peeled and sliced into quarters
3 oz water packed tuna
2 cups of mixed lettuce greens
½ cup chopped cherry tomatoes
¼ cup of cucumbers – slice into quarters
¼ carrots – sliced or diced depending on your preference
1-2 tbsp of low fat ranch dressing (preferably organic)
Note: you can substitute any of the above with other vegetables depending on your likes and dislikes. Don't waste food; use what's in your fridge! Broccoli, Red Peppers and Green Peppers are all great substitutes.
To do:
Arrange the 2 cups of mixed lettuce greens on a large salad plate. Take the tomatoes, cucumbers and carrots and spread them over the mixed greens. You can them add the tuna and the sliced hard-boiled egg to the mix. Take the salad dressing and drizzle it over the mixture. There is no need to toss; simply sit down and enjoy!