Let's talk about camel toes now and hopefully we won't have to have this discussion again in the near future.  For those of you who don't know what a 'camel toe' is let me explain with the help from dictionary.com
Camel toe
the
outline
of
a
vulva
as
sometimes
seen
when
a
woman
is
wearing
tight
pants.
Seamless Thread creator (and brilliant mind), Maggie Han, recently designed a line of underwear that promises to prevent camel toe.  These camel toe-proof undies have been cleverly named "Camel No," and are available in full underwear and thongs.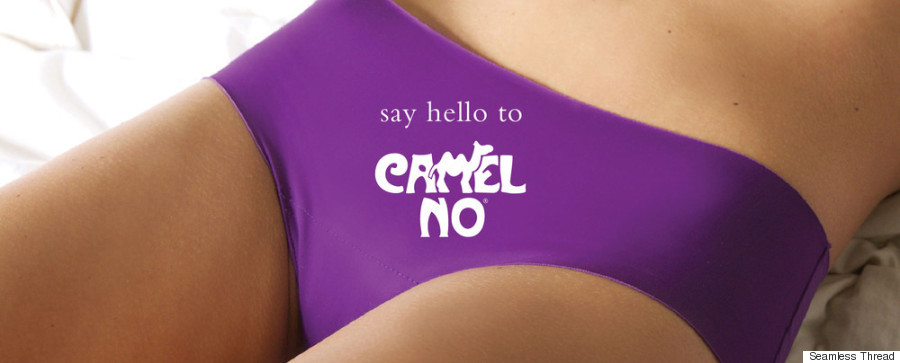 Fortunately for vaginas (and eyeballs) everywhere, the uncomfortable, unsightly problem may finally have met its match with Camel No underwear.
The punny panties, created by Maggie Han, boast thin, flexible silicone linings, effectively preventing camel toes from forming, no matter how tight the pants.
Han's creation comes from a connection to the deeply personal issue of camel toes.
"I always was conscious of my own camel toe," she told Mashable. "I'm 5'11. If I have camel toe and I walk into a conference room it's at everyone's eye level. I'm tall and obviously the taller you are."
Han designed the underwear to help women feel more confident in anything they choose to wear.
She explains,
I want to motivate women to wear everything in their [closets] and not have to fidget and fuss over it and be self conscious…

Women are very aware of that area, especially when wearing tight jeans, yoga pants, or form fitting apparel  —  this gives them the liberty to wear anything without having to think twice that something is inverting. If you're working hard on your ass, then you shouldn't have to hide behind your McQueen leggings with a longer t-shirt over it.
The undies are made out of stretchy, butt-hugging polyester and spandex, while the lining uses medical grade silicone, which, according to Han, won't bunch, pill or (most importantly) absorb or create any sort of smell.
The empowering panties range in price from $28 to $30 and are available at Seamless Thread.
Camel No promises to prevent camel toe in any situation.